Adults—ever wonder what it's like to spend a night at the Museum?
Brave MPM after dark for our Adult Sleepover!
Date and Time
Friday, March 13, 2020
6:30 p.m. check-in
Tickets
$125 per person; $115 MPM members
Open to all museum lovers over the age of 21.
Tickets may also be purchased by calling our reservations department at 414-278-2728 or 888-700-9069.
---
Details
MPM's Adult Sleepover begins Friday evening on March 13 and runs through the morning of March 14. Here's a sampling of some what you can do! 

Go Behind the Scenes 
Unhealthy Relationships: What is a parasite and how do you become one?  With Dr. Jennifer Zaspel, Research Curator and Head of Zoology Collections 
See a variety of parasite specimens and learn about the diversity and evolution of parasite-host associations in the Invertebrate Zoology .
Anthro Up-Close and Personal with Dawn Scher Thomae, MPM's Curator of Anthropology Collections
See what the Anthropology Department is working on in the lab (before it goes public).

See MPM's Scarier Side on a Tour 
See the Haunted MPM
Join MPM's docents to hear spine-tingling stories about the Museum.
Get MPM's Exhibits Revealed 
Join this adults-only tour of your favorite exhibits and learn the stories our labels don't tell you. Sassy commentaries, secret stories, and some salacious details await you on this irregular tour. 
Expose Yourself to MPM's Decline, Decay, and Death
Learn about causes, practices, beliefs, and unexpected stories of death from different cultures around the world and through history. 
Take a Flashlight Tour 
Bring a flashlight as you join us on the Third Floor. We promise this tour won't be too much of a chore! Follow the clues and keep your flashlight nigh, lest you run into ghosts nearby...

Sit Around the Campfire or See the Stars 

Dome Theater Wisconsin "Adult" Stargazing 
Experience a live tour of the Wisconsin night sky! Explore the heavens and discover planets, constellations, meteors, and other cosmic intrigue like black holes.
Camp Halcyon's Campfire Lounge 
Need a break from walking the floors? Camp Halcyon's Campfire Lounge has tons of awesome stuff to do. Build your own s'mores around a (flameless) campfire and participate in fun craftivities, or just hang out with friends!

Test Your Skills…
Can You Wrap a Mummy? 
Join Educators as we wrap a mummy for the afterlife. Come learn about the darker side of Ancient Egyptian Mummification as you get your hands on amulets, organs, and more. 
Try to Raise an Obelisk 
Come test your historical engineering skills with our miniature model of an obelisk raising to see if you can get the same results!
Late-Night Trivia  
You've spent the evening touring MPM and learning more about nature and culture. If you're up late, match wits against your friends and other visitors in our trivia challenge!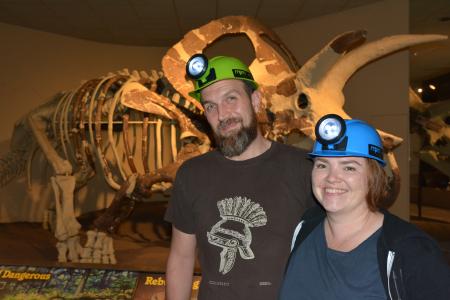 Re-Create a Diorama 
Feeling crafty? Put your skills to the test and create your own version of a favorite MPM diorama - judging will take place at breakfast.
Go on a First Floor Scavenger Hunt
Not a fan of the dark? Stay clear of the Third Floor and take a self-guided scavenger hunt through the First Floor.

See Your Favorite Exhibits 
Streets After Dark
 Go on a late night scavenger hunt through Streets of Old Milwaukee and European Village and test your knowledge or watch classic flick in the Nickelodeon Theater.
Bugs Alive! 
Stop by to visit with some of MPM's live bug collections and discover why they're so interesting and important to a healthy planet. You'll have the chance to touch, handle, or get a close-up view of the creepy crawlies that call MPM home.

And much, much more! There's even a Night Owl Lounge with plenty of games and activities if you want to spend every second awake. And don't forget to peruse what  you'll be eating for Dinner and Breakfast.  
---
Reservation Guidelines
Full payment is due at the time of registration. Payments are nonrefundable and non-exchangeable.
Sleepover reservations must be made at least four weeks in advance of sleepover. Reservations will close on March 1, 2020.
Download our Sleepover FAQs & Packing List.