While the scientists are in the field, join us for fun during the BioBlitz Festival at Riveredge Nature Center!
Date & Time
Saturday, June 15
10:00 a.m. - 3:00 p.m.
Location
Riveredge Nature Center
4458 County Rd Y
Saukville, WI 53080
Cost
FREE
---
Fun Things to Do and See
Discover Riveredge!
Ready for an adventure? Learn about Riveredge from the people who know it best!  Go pond-scooping and sweep-netting for insects, and bring the critters you catch back to the tent to identify and draw. Or, grab a trail map and explore Riveredge to see what you can find!  See if you can spot BioBlitz surveyors in orange shirts.
Explore Science!
Aspiring scientists and nature enthusiasts of all ages are welcome!  Visit the Basecamp tent to see scientists in action and ask questions about what we're learning about the plants and animals at Riveredge.
Visit the Activities Tent
Join our Educators for a biodiversity bash! In addition to MPM and Riveredge Educators, we have friends from...
 
Havenwoods State Park
Mequon Nature Preserve
Milwaukee Metropolitan Sewerage District
Milwaukee Riverkeeper
U.S. Forest Service
Wehr Nature Center
Urban Ecology Center
...who will introduce you to live native animals and share their nature activities and crafts.  Come play Backyard Biodiversity Bingo, dive into how to conserve water and the Coast Guardians Resource Center, hear the buzz about the importance of bees and other pollinators, and learn to identify fireflies, frogs, and butterflies! Investigate the rich variety of plants and animals that share our world and to learn how we're all connected.
Ready for More?
Be sure to chat with the specialists and volunteers from these local nature organizations and discover how you can help care for our natural areas. You can also find out about exciting citizen science projects where you can help scientists gather data!  
---
What is a BioBlitz?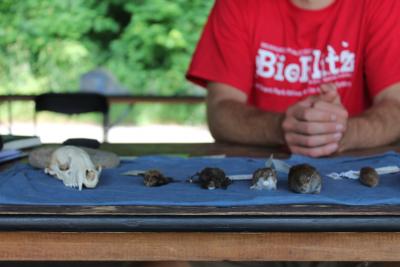 It's a 24-hour celebration of biodiversity where scientists work together to see how many species of plants and animals they can find in one area. Learn more about MPM's BioBlitz.
Why Riveredge Nature Center?
A jewel in the landscape of Ozaukee County, Riveredge adds to the vitality of the community by providing ongoing recreational opportunities for adults, families, and children as well as opportunities for citizen scientists to expand their horizons with ongoing scientific research projects.  From its beginning in 1968, Riveredge Nature Center has been  a  sanctuary of restored farmland. The Center encompasses 379 acres, including: over 10 miles of trails; the 47-acre Riveredge Creek and Ephemeral Pond State Natural Area; 1.5 miles of frontage along the Milwaukee River; 28 acres of planted prairie; eight forest types; and six pond, swamp, and fen communities. Prized by educators, naturalists, and biologists for its exceptional biotic diversity, Riveredge is a regional resource for scientific research, hosting more than 40 studies, projects, inventories, monitoring programs, surveys, and other types of scientific investigations to date.  It is protected habitat for endangered and threatened species such as the Swamp Metalmark Butterfly, Forked Aster, Goldenseal, and the Red-shouldered Hawk.
---
Meet the MPM BioBlitz Team Leaders!
Dr. Ellen Censky – Interim President & CEO
Ellen is a vertebrate biologist and was involved in organizing the very first public-based BioBlitz in 1996 in Pittsburgh, Pennsylvania. She has overseen 14 BioBlitzes in three states since then. The BioBlitzes that she organized were featured on a National Geographic Explorer program, in the Smithsonian Magazine, Ranger Rick Magazine, NBC National News, NPR, USA Today, and numerous other radio shows and newspapers. She also wrote the guide for "How to Organize a BioBlitz."
Dr. Jennifer Zaspel - Team Leader for Invertebrates
Jen is the Curator of Zoology at MPM. Her research program is focused on insect systematics and the evolution of their behaviors, including defensive strategies against vertebrate predators. She holds a BSc and MSc in Entomology from the University of Minnesota, and PhD in Entomology and Nematology from the University of Florida. She will organize and coordinate the teams that will survey insects and other invertebrate animals.
Dr. Christopher Tyrrell – Team Leader for Plants & Fungi
Chris is the Curator of Botany at MPM. He investigates plant systematics and evolution, and is interested in developing research tools for museum collections. He holds a BSc  in Forest Ecosystem Restoration from University of Wisconsin - Stevens Point, an MSc in plant systematics from Iowa State University, and PhD in aquatic ecology from the University of New Brunswick (Canada). He will organize and coordinate the teams that will survey plants, algae, lichens, and fungi.
Julia Colby - Team Leader for Vertebrates
Julia is the Vertebrate and Invertebrate Zoology Collections Manager at MPM. Her interests include taxonomy, systematics, and ecology. She holds a BSc  from the State University of New York College of Environmental Science and Forestry, and an MSc from the University of Nebraska - Lincoln. She will organize and coordinate the teams that survey the vertebrate animals.
Alyssa Caywood - Team Leader for Outreach
Alyssa is the Collections Digitization Manager at MPM. Her interests include human-landscape interactions, sustainability, analog photography, painting, and scientific illustration. She holds a BFA  in Studio Art from the University of Wisconsin-Superior, a BA in Anthropology from the University of Minnesota Duluth, and an MSc  in Anthropology with a certificate in Museum Studies from the University of Wisconsin-Milwaukee. She will organize and coordinate the teams that provide public programming and engagement.
---
BioBlitz 2019 partner