what will you find? 
Spiders Alive!
On exhibit October 5, 2019 - January 12, 2020  
Explore this exciting eight-legged exhibit with 17 species of live spiders from around the world. 
Spiders Alive! is included with admission to MPM's permanent exhibits and is free to members.  
---
Visitors to Spiders Alive!  will
Learn about spiders' anatomy and signature traits, like venom and silk-making.
Discover little-known defense mechanisms such as mimicry and noise-making.
Climb on a spider model that's 50x larger than its life-sized counterpart!
See a rare 100-million-year-old fossil of a spider in limestone. 
And more!
Dates to watch for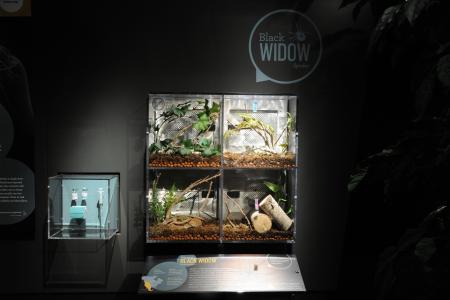 Add this special tour onto your visit for $4 non members or  $2 members, Saturdays at 11 a.m.
Members experience Spiders Alive! first. Register to join us for special programming and activities from 10:00 a.m. to 8:00 p.m. 
Mystery at MPM - October 11, 2019 - SOLD OUT
Spend an adults-only night exploring the creepy and mysterious side of MPM as you put your sleuthing skills to the test! Solve diabolical riddles, interview shady characters, and gather tips to aid your investigation. Invite your friends and prepare for a night of tricks & treats, and general mayhem! Cash bar available. 
Cheryl Hayashi from the American Museum of Natural History  discusses the magnificence of spider silks. 
Families and groups with children age 6 to 12 are invited to put on their PJs and experience MPM under the cover of darkness! Get up close and personal with the creepy crawlies that call MPM home, visit the Spiders exhibit, catch a thrilling show in our six-story Dome Theater, and then guide your group through exhibits on a flashlight exploration.
---
Programming
Can't get to the Museum? Let us bring the fun to you! During the run of the Spiders Alive! exhibit, MPM &  Kohl's on the Move will offer special spider-themed programming perfect for your organization's next community event:
Secret Life of Spiders
What makes a spider special? Find out at this drop-in table engagement! Learn how these eight-legged friends differ from their insect relatives with real specimens from the Milwaukee Public Museum.
Treat your little one to a spider-themed birthday experience they'll remember forever! Includes a spider craftivity and admission to the special exhibit.
---
Spiders Alive! is owned and managed by Peeling Productions in Allenwood, PA. The exhibition was originally created by the American Museum of Natural History, New York.