20th Annual Food & Froth
An Evening Benefiting the Milwaukee Public Museum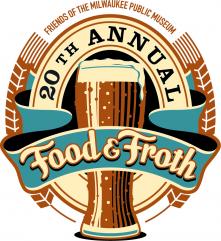 Saturday, February 17, 2018
7:00 – 10:00 p.m.
Don't miss your one chance to tip back with a T.rex, snap a selfie with  Snake,
and cheers with  Granny in the Streets of Old Milwaukee! 
THIS EVENT IS SOLD OUT.
---
---
WHY SUPPORT FOOD & FROTH: Food & Froth supports the Milwaukee Public Museum and its world-class exhibits, programming and educational opportunities, and community outreach efforts.
 
FOOD & FROTH GUEST POLICY: 
All guests are expected to drink responsibly and ensure they have a safe, responsible means of transportation before leaving the Museum. Any guest found causing a disturbance or dangerously intoxicated before or during Food & Froth, as determined by event staff, will be asked to leave the Museum without refund.
---
---
Participating Vendors
We're constantly adding vendors to Food & Froth. Keep checking back for updates!
 
Beer & beverages
Bell's Brewery
Central Waters Brewing Co.
Ciderboys Cider Company
City Lights Brewing Company
Finch Beer Co.
Island Orchard Cider
New Belgium Brewing
One Barrel Brewing
Short's Brewing Company
Stevens Point Brewery
The Fermentorium
The Old German Beer Hall
Third Space Brewing
Tyranena Brewing Company
Vintage Brewing Company
Wisconsin Brewing Company
Abita Brewing Company
Ace Cider
Blake's Hard Cider Co.
Door County Brewing
Epic Brewing
Evil Twin Brewing
Krombacher Braueri
Mobcraft Beer
Oso Brewing Co.
Potosi Brewing Company
Shiner Beer
Two Brothers Brewing
Big Head Brewing Co.
Lakefront Brewery
Raised Grain Brewing Co.
Bofferding Brewery
Founders Brewing Co.
Great Lakes Brewing Company
Hinterland Brewery
Milwaukee Brewing Co.
New Glarus Brewing Company
Tyranena Brewing Company
Burning Brothers Brewing
Lagunita's Brewing Company
Water Street Brewery
Also featuring...
Barley's Angels Milwaukee
Beer Barons of Milwaukee Cooperative
Museum of Beer & Brewing
Remedy Bloody Mary Mix
Stone Creek Coffee
Trubmeisters Homebrew Club
New this year!
1840 Brewing Company
Barefoot Wine & Bubbly
Good City Brewing
Half Acre Beer Company
Lake Louie Brewing
Miller Valley Brewery
Next Door Brewing Company
Pabst Milwaukee Brewery
Enlightened Brewing Company
Warpigs Brewing Co.
Press Hard Seltzer
Gathering Place Brewing Company
Hop Haus
Karben4 Brewing
Ramborn Cider Co.
Toppling Goliath Brewing Company
Woodchuck Cider
Lift Bridge Brewery
Maui Brewing
Badger State Brewing
Elmaro Vineyard
 
food
Beans & Barley
Blackfinn Ameripub
Bunzel's Meat and Catering
Café Bavaria
Jen's Sweet Treats
Klement Sausage Company, Inc.
Lush Popcorn
Mequon Chancery
Mulligans Irish Pub and Grill represented by Brews for Autism
Potawatomi Hotel & Casino
Sassy Cow Creamery
Shawarma House
Shellabella's Dill Vinaigrette
The Old German Beer Hall featuring Usinger's and Pretzilla
Thunder Bay
Ball  'n Biscuit Catering
East Shore Specialty Foods
 
bands
Alpine Blast
Atlantic Wave
Category X
Hot & Dirty Brass Band
The Hungry Williams
The Ryan McGrath Band
The WhiskeyBelles

Retail
---