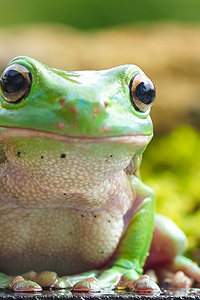 Experience the vocal and visual beauty of frogs at this special exhibit!
Limited Engagement: October 6, 2018 - January 6, 2019

Tickets
Frog Feedings: Stop by to watch the frogs get fed by a professional keeper and learn something new! Feedings occur daily at 11:00 a.m. for about 15 minutes.
Monday - Amazon Milk Frogs and/or Mexican Dumpy Frogs 
Tuesday -  African Bullfrog and/or Ornate Horned Frogs
Wednesday -  Giant Monkey Frogs and/or Amazon Milk Frogs 
Thursday -  Poison Dart Frogs
Friday  - Amazon Milk Frogs and/or Mexican Dumpy Frogs 
Saturday -  African Bullfrog and/or American Bullfrog
Sunday - Poison Dart Frogs
Upcoming Dates
Sunday, December 16th, 11:15AM

Sunday, December 16th, 11:45AM

Sunday, December 16th, 12:15PM

Sunday, December 16th, 12:45PM

Sunday, December 16th, 1:15PM

Sunday, December 16th, 1:45PM

Sunday, December 16th, 2:15PM

Sunday, December 16th, 2:45PM

Sunday, December 16th, 3:15PM

Sunday, December 16th, 3:45PM