We're exploring the space where science and culture intersect, and we're doing it over drinks - from home! 
Grab a brew (or root-brew!) and meet us online. This virtual lecture series features some of the best minds in science. From the sensation of being hugged by an octopus to quantum mechanics, Science on Tap looks to answer questions you never knew you had!
---
Upcoming Events
Date and Time
Thursday, February 18, 2021
7 p.m. virtual Zoom lecture
Cost and Tickets
Members FREE; non-member price is $5 per household. To purchase for groups of 10+ (non-household, $20), please call 414-278-2728 during Call Center hours (Monday-Friday, 9 a.m. to 2 p.m.).
Registration is required and attendees will receive a Zoom link prior to the lecture.
Details
"Braiding Sweetgrass: Indigenous Wisdom, Scientific Knowledge, and the Teaching of Plants" - Robin Wall-Kimmerer
Drawing on her life as an indigenous scientist and as a woman, Kimmerer shows how other living beings―asters and goldenrod, salamanders, algae, and sweetgrass―offer us gifts and lessons, even if we've forgotten how to hear their voices. In reflections that range from the creation of Turtle Island to the forces that threaten its flourishing today, she circles toward a central argument: that the awakening of ecological consciousness requires the acknowledgment and celebration of our reciprocal relationship with the rest of the living world.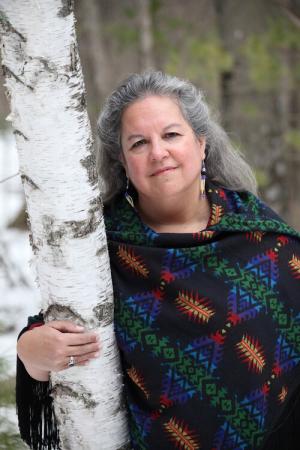 About the Speaker
Robin Wall Kimmerer is a mother, scientist, decorated professor, and enrolled member of the Citizen Potawatomi Nation. She is the author of Braiding Sweetgrass: Indigenous Wisdom, Scientific Knowledge and the Teaching of Plants, which has earned Kimmerer wide acclaim. She tours widely and has been featured on NPR, and in 2015, addressed the general assembly of the United Nations on the topic of "Healing Our Relationship with Nature." Kimmerer lives in Syracuse, New York, where she is a SUNY Distinguished Teaching Professor of Environmental Biology, and the founder and director of the Center for Native Peoples and the Environment.
As a writer and a scientist, her interests in restoration include not only restoration of ecological communities, but restoration of our relationships to land. She holds a BS in Botany from SUNY ESF, an MS and PhD in Botany from the University of Wisconsin and is the author of numerous scientific papers on plant ecology, bryophyte ecology, traditional knowledge and restoration ecology. 
---
Past Events
October 22, 2020 - Nalini M. Nadkarni - "Tapestry Thinking: Weaving the Threads of Rainforests and Humans"
January 16, 2020 -  Dr. Jo Handelsman  -  "Soil: A Precious Resource Under Threat"
October 17, 2019 - Dr. Cheryl Y. Hayashi - "Secrets of Spider Webs"
April 11, 2019 - Dr. Mark Siddall  - "Toxic Tales Through Time"
February 21, 2019 - Corey Jaskolski - "Technology for Exploration"
November 15, 2018 - Dr. Merlin Tuttle -  "The Incredible World of Bats — Why We Need Them"
March 29, 2018-  Dr. Takeshi Inomata - "Clues to the Origins of Maya Civilization Revealed"
November 2, 2017 - Dr. Justin Vandenbroucke - "Neutrino Astronomy at the South Pole"
September 28, 2017 - Mary Roach -  "Grunt: The Curious Science of Humans at War"
April 27, 2017 - Jennifer Casey - "The Nature of Slow Food"
March 16, 2017 - Michael E. Mann, PhD - "The Madhouse Effect"
And more!
---
Official Science on Tap Media Partner: