We're exploring the space where science and culture intersect, and we're doing it over drinks.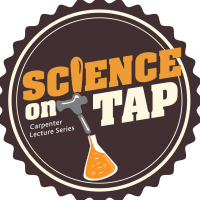 Grab a brew and pull up a chair. This evening lecture series features some of the best minds in science in a fun, social environment. From the sensation of being hugged by an octopus to quantum mechanics, Science on Tap looks to answer questions you never knew you had!
---
Upcoming Events
Technology for Exploration
Thursday, February 21, 2019
Corey Jaskolski - Founder of the non-profit Digital Preservation Project, inventor, engineer, National Geographic Fellow, magazine photographer, AR and VR developer, and explorer
Corey builds new technologies for exploring the world's most amazing natural and cultural places. His "day job" includes things like scuba diving in the frigid waters of Antarctica, descending 12,500 feet  deep in a three-man sub to explore Titanic, 3D-scanning the skulls of Mayan human sacrifice victims, helicoptering in to remote sites in the Congo during an Ebola outbreak, digitizing the Tomb of Christ, and shark diving. The technologies needed for each of these jobs often doesn't exist, so Corey uses engineering, creative thinking, and a whole lot of luck to build specialized technical tools top use in these places!  In this presentation,  he will share some of his adventures and behind-the-scenes stories from a life on the edge. 
---
Past Events
November 15, 2018 - Dr. Merlin Tuttle -  "The Incredible World of Bats — Why We Need Them"
Bats comprise a fifth of all mammals. They come in an incredible variety, as cute as any panda or as strange as any dinosaur, from tiny bats that live in beetle holes in bamboo to giant flying foxes with six-foot wingspans. They're found nearly everywhere, are primary seed dispersers from deserts to rainforests, pollinate some of the world's most valuable crops, and save American farmers billions of dollars annually in avoided pesticide use.  They maintain long-term social relationships similar to those of humans, elephants, and dolphins, share information, and even adopt orphans. 
March 29, 2018-  Dr. Takeshi Inomata - "Clues to the Origins of Maya Civilization Revealed"
Takeshi Inomata is Professor and Agnese Nelms Haury Chair in Environment and Social Justice at the School of Anthropology, University of Arizona. He has been investigating the origins of the Maya civilization and its change through excavations at Aguateca and Ceibal, Guatemala, and recently began a new project to examine the relationship between the Olmec and Maya civilizations.  Research at Ceibal revealed the emergence of the Maya was stimulated, not by direct influence from the Olmec, but by more complex interactions with various regions. The application of new technologies, including high-precision radiocarbon dating and airborne laser mapping, is providing exciting data on the origins of the Maya.
November 2, 2017 - Dr. Justin Vandenbroucke - "Neutrino Astronomy at the South Pole"
Dr. Vandenbroucke uses innovative instruments around the world to detect high energy particles from the cosmos. Understanding the smallest particles in the universe is necessary to understanding the largest objects in the universe and vice versa. Vandenbroucke received his Ph.D. in Physics at UC-Berkely in 2009. He was a Kavli Fellow at SLAC National Accelerator Laboratory and a NASA Einstein Fellow at Stanford University before joining the UW faculty in 2013.
September 28, 2017 - Mary Roach -  "Grunt: The Curious Science of Humans at War"
Spend the evening with New York Times Best-Selling Author Mary Roach! How is a wedding gown like a bomb suit? Why are shrimp more dangerous to sailors than sharks? Find out on September 28 when Mary Roach discusses her new book, Grunt: The Curious Science of Humans at War. America's favorite science writer uses humor and compassion as she tackles how science is trying to conquer a soldier's most challenging adversaries and answers questions not found in any other book in the military.
April 27, 2017 - Jennifer Casey - "The Nature of Slow Food"
Jennifer Casey, Executive Director, Fondy Food Center, is a registered dietitian and professional cook. She also serves as Slow Food USA's Wisconsin Governor and co-chair of the Slow Food Midwest Ark of Taste Committee.
Join us when she discusses the importance of biodiversity in our food system and Slow Food's role in protecting and promoting diversity.
March 16, 2017 - Michael E. Mann, PhD - "The Madhouse Effect"
Dr. Mann is Distinguished Professor of Atmospheric Science at Penn State, with joint appointments in the Department of Geosciences and the Earth and Environmental Systems Institute (EESI). He is also director of the Penn State Earth System Science Center (ESSC).
Dr. Mann is the author of several books including his most recent work, The Madhouse Effect, which features cartoons by Pulitzer Prize-winning political cartoonist Tom Toles. Through satire, The Madhouse Effect portrays the intellectual pretzels into which denialists must twist logic to explain away the clear evidence that man-made activity has changed our climate. Learn more about Dr. Mann »
And more!
---
Official Science on Tap Media Partner: