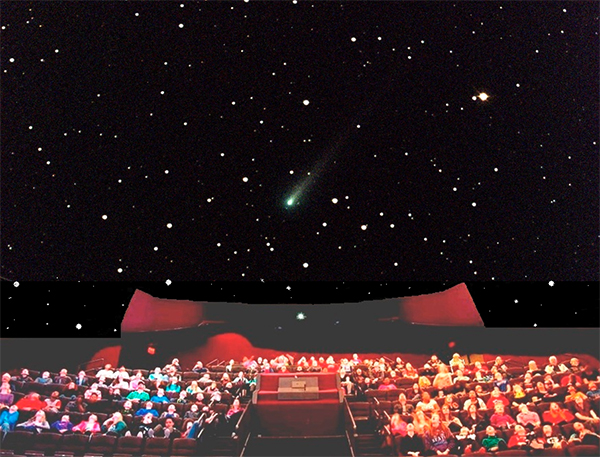 Enjoy a unique visual experience at the Daniel M. Soref Planetarium and Dome Theater!
Take in an awe-inspiring 23-minute Planetarium program or a magnificent 45-minute giant screen film. A free Planetarium program is ALWAYS included with general admission or membership!
For additional information, such as showtimes and prices, see what's playing.
---
Partial Solar Eclipse Public Viewing
Join us for a safe viewing of the partial solar eclipse on Saturday, October 14, from 10:30 a.m. - 1:30 p.m. at Milwaukee Public Museum (outside the Daniel M. Soref Dome Theater & Planetarium near the green clock on Wells Street, clear skies permitting!). Telescopes with a safe solar filter will be available, and safe eclipse viewing glasses will be available to purchase in the MPM Marketplace for $2.
Exact Eclipse Times
10:37 a.m. - Moon starts to move in front of Sun
11:57 a.m. - Maximum Eclipse for Milwaukee – 41% of the Sun will be eclipsed by the Moon
1:20 p.m. - Eclipse Ends
---
Deep Space: An Astronomy Education Course
Do you want a deeper understanding of the universe? Join us for a five-week course and discover what the night skies hold.
This engaging and interactive introduction to astronomy provides an understanding of the planets, stars, constellations, and more, and is suitable for adults 18 years or older.
---
About the Dome Theater
With crystal clear images on a six-story-tall screen and wraparound digital surround sound, watching a show in the Dome Theater transports you into the center of the action -- be it climbing the daunting heights of Everest, cruising the skies on the back of a pterosaur, or experiencing the weightlessness of space.
---
Planetarium Programs
MPM's Planetarium is Wisconsin's largest and most modern, and is the first Planetarium in the world to debut a Digistar 6 computer projection system that fills the entire Dome Theater with stunning 3D animations, creating an immersive astronomy experience. You'll see breathtaking vistas of the night sky, planets, the Milky Way, and distant wonders of the universe.