20th Annual Food & Froth
An Evening Benefiting the Milwaukee Public Museum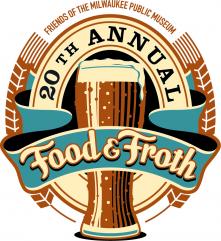 Saturday, February 17, 2018
7:00 – 10:00 p.m.
Don't miss your one chance to tip back with a T.rex, snap a selfie with  Snake,
and cheers with  Granny in the Streets of Old Milwaukee! 
Tickets now on sale! 



Or call 414-278-2728
---
Go VIP!
Get VIP-exclusive early event access to the main event floors from  6:00 - 7:00 p.m.,  plus VIP-only frothy fun in the VIP Room from  6:00 p.m. 'til end of event!
VIP Experience includes:
All night VIP-exclusive event space from 6 - 10:30 p.m. 
VIP-only unlimited food and beverage, including select VIP-only craft beverages and nonstop nibbles
Early entrance –- a full hour of exclusive access -– to main event floors
Commemorative take-home glass
Beer and food samples on main event floors
Live entertainment on main event floors
---
HOW MUCH? 
VIP Admission: $135 
General Admission: $75 
Member Pre-Sale: $65  Ended 11/22
General/Member Admission Tickets include:
Commemorative take-home glass
Beer and food samples on exhibit floors
Live entertainment on main exhibit floors
Food & Froth is a 21+ event.

To purchase tickets:



Or please call 414-278-2728
---
---
WHY SUPPORT FOOD & FROTH: Food & Froth supports the Milwaukee Public Museum and its world-class exhibits, programming and educational opportunities, and community outreach efforts.
 
FOOD & FROTH GUEST POLICY: 
All guests are expected to drink responsibly and ensure they have a safe, responsible means of transportation before leaving the Museum. Any guest found causing a disturbance or dangerously intoxicated before or during Food & Froth, as determined by event staff, will be asked to leave the Museum without refund.
---
---
Participating Vendors
We're constantly adding vendors to Food & Froth. Keep checking back for updates!
 
Beer & beverages
Bell's Brewery
Central Waters Brewing Co.
Ciderboys Cider Company
City Lights Brewing Company
Finch Beer Co.
Island Orchard Cider
New Belgium Brewing
One Barrel Brewing
Short's Brewing Company
Stevens Point Brewery
The Fermentorium
The Old German Beer Hall
Third Space Brewing
Tyranena Brewing Company
Vintage Brewing Company
Wisconsin Brewing Company
Also featuring...
Barley's Angels Milwaukee
Beer Barons of Milwaukee Cooperative
Museum of Beer & Brewing
New this year!
1840 Brewing Company
Barefoot Wine & Bubbly
Good City Brewing
Half Acre Beer Company
Lake Louie Brewing
Miller Valley Brewery
Next Door Brewing Company
Pabst Milwaukee Brewery
 
food
Blackfinn Ameripub
Bunzel's Meat and Catering
Café Bavaria
Jen's Sweet Treats
Lush Popcorn
Mequon Chancery
Mulligans Irish Pub and Grill represented by Brews for Autism
Potawatomi Hotel & Casino
Shellabella's Dill Vinaigrette
The Old German Beer Hall featuring Usinger's and Pretzilla
 
bands
Category X
The Ryan McGrath Band
The WhiskeyBelles

Want to sample your product at Food & Froth?
Send completed vendor applications to engl@mpm.edu by January 5, 2018.
BEVERAGE vendors, download BEVERAGE app.
FOOD vendors, download FOOD app.
---